Press Release Distribution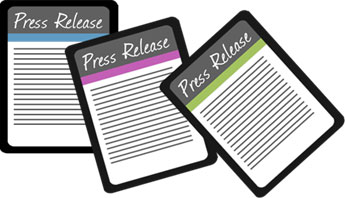 Attract attention from audiences and search engines alike with relevant news about your business, products and services, or industry. Unlike normal press releases, SEO press releases submitted to PR websites are rich with keywords, valuable content, and link back to your website. You get the search engine benefit, while addressing new audiences and investors who keep up to date with industry-relevant news.
An added benefit is that different types of media can be added to the press releases, making it more interactive, easily consumed, thus getting more attention from your audiences.


How to choose your press release package
Choosing your press release distribution package is easy: select the number of times you want us to submit your press release to credible, high-value PR websites.
Many of our clients prefer that we write their content for them - our press release writers consist of SEO experts and journalists, which means high-value content sprinkled with keywords for best organic SEO growth. If you want to write your own press releases, simply select the applicable option at the bottom of the table.
You'll receive weekly reports on the progress we've made from your dedicated project manager. And if you have any questions, just remember we're available on email support and live chat.
PRESS RELEASE DISTRIBUTION PACKAGES
PRD-25
PRD-50
PRD-75
PRD-100
Submissions
25
50
75
100
Targeted Keywords
5
5
10
10
Press Release Writing


(750 - 900 words per PR)

5
10
15
20
Manual Submission -

100% Organic

Dedicated Project Manager
Email Support
Live Chat Support
Detailed Reports

(xlsx format)

weekly
weekly
weekly
weekly
Completion Time
2 weeks
3 weeks
4 weeks
6 weeks
$129
$229
$349
$439
Ordering Process

BUY NOW

BUY NOW

BUY NOW

BUY NOW
Provide your own press releases and we'll only charge for distribution
PRD-25
PRD-50
PRD-75
PRD-100
Press Release Distribution Only


(does not include content writing)

$29
$49
$69
$89
Ordering Process

BUY NOW

BUY NOW

BUY NOW

BUY NOW
BENEFITS OF PRESS RELEASE DISTRIBUTION
Boost your brand visibility
Get news generated around your business
Attract new audiences and investors
Increase your search engine ranking potential
Draw more attention to your business with interactive content